---
OVERVIEW: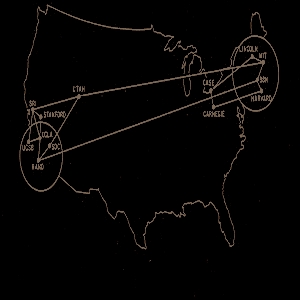 About 10 years after Sputnik was launched, NASA had grown very popular because of missions like Apollo 11 in 1969 (when we put a man on the moon) and Apollo 13 in 1970 (when our astronauts got stuck in space for a few days). But if you remember anything about that little research group called ARPA, it wasn't just NASA who had something up their sleeve. NASA was a big deal, but ARPA quietly worked on something else that was about to change the world forever.
As you know, ARPA spent a lot of time thinking about and studying communication. In the beginning, they thought about how human beings communicate naturally, but then they had to figure out how to apply that type of communication to computers. Over time, they built a network of connected computers known as the ARPANET.
During this lesson, you will learn about the history of the ARPANET project, which colleges and universities were the first to connect, and how ARPANET eventually led to what we now know as the Internet.
---
LEARNING GOAL #1: The Basics of Web History
Students will understand how the Internet evolved from a classified government research project into a world wide resource with the help of highly educated teachers and students.
---
PART 1: CLASS DISCUSSION
Read More
---
PART 2: CLASS ACTIVITIES
Read More
---